The Rise of Consumer Created Content
So here at BeSeen Marketing we have been emphasizing the importance of content for a while, and it seems that this new year has brought brands into a bit of a content panic.
Why now? Well since 2011 google have made small changes to the way content is seen when listing websites in search results; starting to concentrate more on the relevance of content, for example how long since new and up to date content has been published on a website. Therefore it's vital that brands have a strong online presence in order to survive in this increasingly digital world, but how do they stand out amongst the crowd and deliver fresh content regularly?
Consumer created content is becoming the answer for many! This isn't just about creating new content but it is about building and strengthening brand relationships with customers.
Last week saw the launch of a new campaign by Diet Coke to celebrate the brands 30th Birthday. With a little help from Tesco, Diet Coke is putting photo booths in a number of its stores, customers are invited to take pictures of themselves choosing a number of backdrops designed by Marc Jacobs, these customers will have the chance to be part of a mosaic of the Diet Coke Hunk, allowing people on Facebook page to zoom in to see if they have been featured. Diet Coke have encouraged talk of the campaign on social media through the hashtag #dietcoke30, which will allow for even more customer interaction and brand relationship strengthening. What better way to celebrate the brand's 30th birthday than by getting customers involved!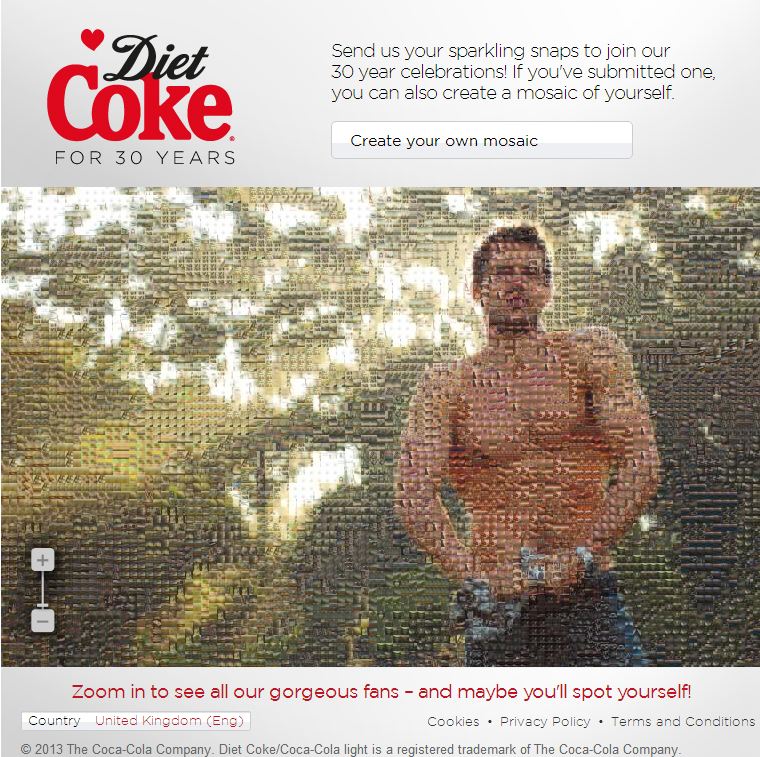 Another great marketing campaign has been Three Mobiles "Dance Pony Dance", launching at first a TV advert and then asking viewers to go online to create their own comedy Dance Pony Dance videos sharing them virally through the hashtag #DancePonyDance. What made this campaign so successful was the synergy across all channels- from television to the company website to twitter to youtube; this campaign reached everyone and used peers to do so.
Marmite have possibly had one of the cleverest marketing campaigns recently. They chose to leave media like television and radio alone, instead they used a unique marketing channel of Oxford Street Christmas lights. Using one of the busiest shopping streets in the world, during the busiest shopping time of the year to target members of the public that "love it or hate it". A banner was installed in Selfridges which featured members of the public pulling a love it or hate it expression, there were two ways consumers could be featured on this banner, by either uploading photos directly onto the Facebook page or by going to an interactive bus stop on Oxford Street to take photos. The campaign gave consumers the chance to see their content straight away by using the interactive bus stop they could pop into Selfridges to see their image on the banner in a matter of minutes.
Is consumer created content risky? Well it can be if you don't control what is put onto your site, i.e. letting users directly upload to a live site, however the companies that are featured above have all ensured that they vet the content before putting it online, this also means that any offensive or harmful material isn't put on the company site which could overall be harmful to reputation.
Consumer created content does have a real purpose in a marketing strategy, at present this is a fairly new idea meaning that the brands which have used it so far have stood out amongst the competition. It are these marketing campaigns that are generating a lot of conversation in 2013, consumers have so much information around brands that they want to see something different and when they do they let people know about it. It puts the brand at the forefront of people's minds, if they remember your campaign they will remember your product.
One common outcome of these campaigns listed has been the positive word of mouth which has been generated virally. In all the cases above consumer created content strategies have been combined with social media strategies; with people spending more time on the internet companies are finding different ways to target their desired audiences.
What do you think of these campaigns? Are they the future of marketing and content creation? Get in touch and let us know.